67 Englehart Street, Dieppe
506-852-7100
866-MKS-BIKE (866-657-2453)

www.mikesbikeshop.ca
Please Check website for Seasonal
STORE HOURS
Southeast Storm Discount

(With Valid ICE/Membership Card)

*20% On all Regular Priced Merchandise with the following exclusions

*Discount does not apply to the following items: Kickr Trainers, Asics Running Shoes (Already Discounted from MSRP), Garmin Products, Labour/Service, Bicycles, GoPro Camera's, and Accessories, Items not at MSRP
Piscines FunTime Pools Inc.
84 Lewisville Road
Moncton New Brunswick E1A 2K4

Phone: (506) 384-4201
Fax: (506) 855-6698
Email: info@funtimepools.ca
funtimepools.ca
Monday to Wednesday : 10:00 am to 5:00 pm
Thursday and Friday : 10:00 am to 6:00 pm
Saturday: 10:00 am to 3:00 pm
Sunday and Holidays : closed
Advanced Health & Physiotherapy is Proud to be a Corporate Sponsor for the Southeast Storm Triathlon Club! We are pleased to offer all Southeast Storm members VIP access to physiotherapy services at our facility. VIP access allows you a guaranteed consultation with a therapist within 24 hours of your contact (Monday – Friday) to ensure we address your concerns immediately. We can appreciate how a break in your training due to pain can largely affect your training.

At Advanced Health, we are dedicated to the promotion of a safe, healthy and active lifestyle. We focus on client education and provide an active approach to rehabilitation. By combining current research with clinical experience and utilizing a health-care team approach, we are committed to a comprehensive rehabilitation which helps you continue or return to your sport or lifestyle.We offer Physiotherapy, Massage Therapy, Sports Physicians and Rehabilitation, Othotics and Bracing, Occupational Therapy, Functional Evaluations, Specialized Hand Rehabilitation, Workers' Compensation and Auto Accident Rehabilitation.
At Équilibrum Maritime, we firmly believe that an effective, custom-designed orthotic is essential for returning balance to human biomechanics.


That is why we develop orthotics that are comfortable, esthetically pleasing, efficient and dynamic. Our attention to detail and expertise in biomechanical evaluation and manufacturing has positioned our company as a true leader in our field.

Below is a range of products available in the various Équilibrum outlets:
foot orthoses , knee orthoses, tibial orthoses, wrist, thumb and elbow orthoses, plagiocephaly orthoses, anklets, compression stockings, lumbosacral support, orthopedic and comfort shoes, convalescence-related products
CHOICE CORPORATE ID#: 00075881

HOW TO BOOK

Visit http://choicehotels.ca/trisoutheaststorm enter your reservation details and preferred rates will be highlighted at participating hotels

Call 800.4CHOICE (800.424.6423) and quote your Corporate ID# 00075881 to access preferred rates

Mobile: download the Choice Hotels app and enter our Corporate ID# 00075881 when booking
The Southeast Storm Triathlon Club has teamed up with Choice Hotels® to make traveling a little more enjoyable and convenient – and we'll save up to 15%!To give you some background, Choice Hotels® includes Comfort™, Quality®, Clarion® and a few others like the upscale Ascend Hotel Collection®. There are over 325 Choice locations spanning all provinces – and over 6,300 worldwide. Hotels are conveniently located near major airports, key highways and business districts. You'll also be able to connect easily with colleagues using free high-speed Internet, and jump-start your day with free breakfast at most locations.While this is a corporate program, you'll be happy to know that you can use this program for personal travel too – a great employee benefit! Here is the information you need to take advantage of the Choice Corporate Program.
EARN REWARDS WHEN YOU TRAVEL
With the Choice Privileges® rewards program, you can collect points quickly that can be used towards free Choice Hotels stays worldwide, Aeroplan® Miles, luxury resort stays, gift cards and much more. It's free to join.Sign-up at ChoicePrivileges.ca and remember to enter your Client ID# 00075881 in your Choice Privileges profile.Choice is looking forward to welcoming you on your next stay!Cut out the little card below to keep this number handy when making reservations.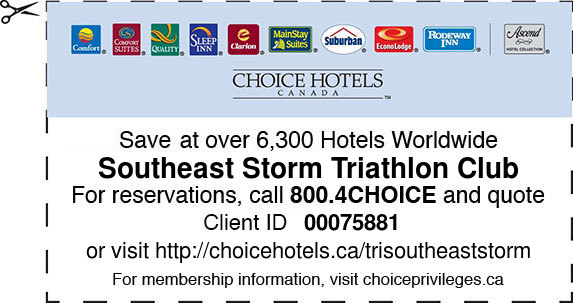 Codiac Chiropractic Centre | Moncton Chiropractor
1699 Mountain Rd
Moncton, NB E1G 1A7
Phone: (506) 383-1699
Guru Nutrition
3115 Principale-Ouest Ave, Dieppe, New Brunswick
Phone: (506) 859-8387
Email: info@gurunutrition.com
Web: www.gurunutrition.com
Facebook: GuruNutritionExpress
Southeast Storm Members Discount
25% off products and consultation (With the exception of discounts below)

10% off single bars and drinks
10% off Crossfit line of products (Progenex and Blonyx)